Having the option to be able to provide manual breaths when using the Bunnell Jet Ventilator is key to reaching and sustaining adequate infant ventilation. The outlined steps demonstrate how Airon's pNeuton mini is an ideal complementary device.
The pNeuton mini, a conventional infant ventilator, works in conjunction with the Life Pulse HFJV.
The pNeuton mini has 4 functions to provide:
blended gas for patient's spontaneous breathing (21 – 100%)
regulates PEEP / CPAP
supplementary IMV / manual breaths
periodic dilation of airways to minimize atelectasis
How to Set Manual Breaths
Set ventilation controls; Peak Pressure (PINSP) and PEEP / CPAP
Define Respiratory Rate and set Inspiratory Time (TI) control and Expiratory Time (TE) control

Minimum breath rate = 3 bpm
See chart below for Respiratory Rate reference table

Set High Pressure Alarm (PALARM)
Switch Mode control to IMV + CPAP

pNeuton mini will wait for the expiratory time to expire as set on the (TE) control to initiate the first breath.
pNeuton mini will then provide a breath as set by the (TI) control and Peak Pressure. The longer the set Inspiratory Time, the higher the tidal volume.
When the set Peak Pressure level is reached the continuous flow through the patient circuit will be released through the expiratory valve.
Clinical Evaluation
Atelectasis = manage controls for Peak Pressure, and I-Time with respiratory rate.
Oxygenation = PEEP / CPAP is the best option to control oxygenation in patients with air leaks.
Respiratory Rate Chart: estimated breaths per minute based upon Insp Time and Exp Time settings.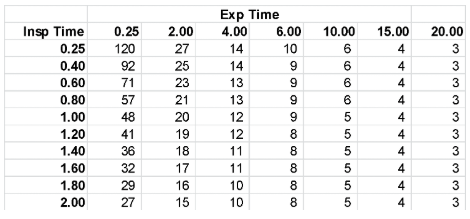 NOTE: Interruptions in the HFJV pulses may occur with the delivery of conventional breaths at PIP higher than the set PIP on the HFJV.
Remember: Clinical support and education is always available from Airon
Whenever you have clinical questions, or want to know more about product utilization or special applications remember Airon can help. We are here to support you in providing the best patient care possible.
Clinical support tools are also available on the Airon website.
Product page shows use, specifications and videos
Clinical Resources provides direct links to support documents
Contact Us sends your questions directly to Airon's clinical support team
Help is always here, anytime.