pNeuton mini Ventilator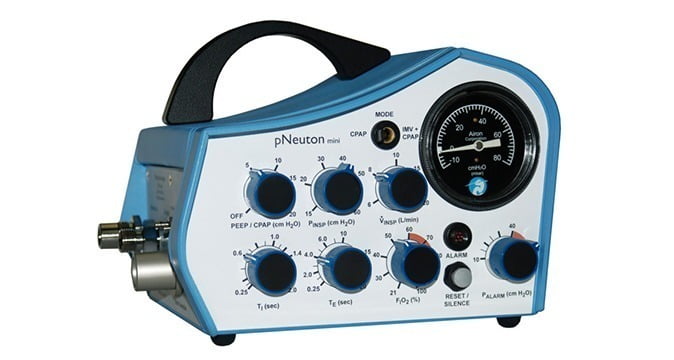 pNeuton mini Ventilator for Neonatal / Infant Critical Life Support Anywhere, Anytime
The pNeuton mini ventilator is a new approach to neonatal, infant and pediatric ventilatory support, and accommodates even the most fragile patients from 400 grams to 25 kilograms.
No Need for Electricity or Batteries
With a built-in oxygen blender, and precise timing & pressure controls, the pNeuton mini matches the complexity of pressure-limited ventilation in standard infant ventilators without the need for electricity or batteries.
A purely pneumatic ventilator supporting patients non-invasively using nasal prongs / masks for CPAP application, or ventilation + CPAP with endotracheal tubes for full support. The ventilator is ideal for transporting patients both within the hospital and via air or ground ambulance.
Neonatal / Infant Applications to Match the Clinical Complexity
For your referring hospital or Labor & Delivery, from the newborn's first troubled breath in the delivery room to optimizing ventilation support for transport.
The pNeuton mini is MRI compatible and can be placed right next to the MRI magnet with a remote alarm for enhanced patient safety.
The pNeuton mini is also compatible with the Life Pulse High-Frequency Ventilator from Bunnell Incorporated, providing conventional ventilation in tandem with the Life Pulse without interfering with high frequency ventilation or nuisance alarms.
Benefits for the Patient
A wide range of continuous flow settings to provide the right ventilation for the size of your patient with the least amount of expiratory flow resistance
Adjustable oxygen delivery from 21% to 100% to precisely match patient oxygen requirements
Switch from CPAP nasal prongs, face mask to invasive ventilation seamlessly and without interruption
One ventilator with no change in patient circuit wherever patient care and diagnostic procedures are needed
Benefits for the Healthcare Provider
Calibrated controls for precise and easy operation
Night visible manometer to monitor patient pressure and effort
Patient disconnect and high-pressure alarms that work during non-invasive and invasive ventilation
MRI conditional up to 3 T – place right next to the scanner with remote alarm output for the control room
Oxygen powered – no batteries to change
Rugged and tested to meet RTCA standards with everything built-in – no accessories needed
Benefits for your Budget
Switch from invasive ventilatory support to non-invasive with just a simple change of the patient interface
Lightweight and portable with attachment to any patient care incubator/bed
Minimal oxygen consumption to maximize transport times
No batteries or electronics decrease preventative maintenance costs
pNeuton mini P/N 20031
pNeuton mini StartUp Kit P/N 20032
Description
Pneumatically powered for use on neonatal / infant and pediatric patients
Patient range – 400 gram to 25 kilogram
Modes – CMV, IMV + CPAP or CPAP only – continuous flow pressure limited ventilation
Pressures displayed on manometer
MRI conditional – 3 T or less, maximum spacial gradient magnetic field of 720-gauss/cm or less, no gauss line restriction
Gas consumption – flow setting + 3 L/min
Size – 8.6″ W x 7″ H x 7.6″ D (22 cm W x 18 cm H x 19.4 cm D)
Weight – 8.8 lbs (4 kg)
Input gas requirement (oxygen and medical air): 55 psi ± 15 psi (3.8 bar ± 1 bar) each gas
Classification according to MDD 93/42/EEC: IIb
Meets International Standards for transport ventilators:

ASTM F1100-90 – Ventilators Intended for Use in Critical Care
ISO 10651-3:1997 – Lung Ventilators for Medical Use- Particular requirements for emergency and transport ventilators
Airworthiness: RTCA DO-160G – Environmental Conditions and Test Procedures for Airborne Equipment, as applicable
Control Settings
Inspiratory time: 0.25 to 2 seconds
Expiratory time: 0.25 to 20 seconds
Continuous Flow: 6, 8, 10, 15 or 20 L/min
Peak pressure: 10 to 60 cm H2O (mbar)
PEEP / CPAP: 0 to 20 cm H2O (mbar)
Oxygen: 21 to 100% ± 3%, requires oxygen and medical air source
Audible and Visual Alarms
All pneumatic alarm system (no batteries)
Patient circuit disconnection

Automatic reset when alarm condition resolves
20-second silence/reset button
10-second activation

High pressure – independently adjustable from Peak Pressure
Low gas source pressure

If either source gas drops below 40 psi (2.8 bar)
Continues operation as long as oxygen is available
Browse Order Information for the pNeuton mini
20031 pNeuton mini ventilator, device only
20032 pNeuton mini Startup Kit; everything you need to get started using your new ventilator.
Kit includes:
(1) pNeuton mini Ventilator
(1) DISS high pressure oxygen hose, 8 foot (2.4m), green (ISO color hose available)
(1) DISS high pressure medical air hose, 8 foot (2.4m), yellow (ISO color hose available)
(1) Secure Pole / Rail Mount
(1) Box of 58031 patient circuits – 6 foot (1.8m), infant, single patient use, qty 15
58031 Neonatal / infant, disposable, single use, 10mm ID, 6 foot (1.8m), qty 15
58035 Child / pediatric, disposable, single use, 15mm ID, 6 foot (1.8m), qty 15
58201 Neonatal / infant, disposable, single use, 10mm ID, 8 foot (2.4m), qty 10
58235 miniFlow Start-up Kit, Small – miniFlow interface / masks / prongs for nCPAP, disposable, single use
58236 miniFlow Start-up Kit, Large – miniFlow interface / masks / prongs for nCPAP, disposable, single use
SAFETY NOTE: Only Airon manufactured patient breathing circuits are approved for use with pNeuton ventilators.
58400 miniFlow nCPAP Patient Interface, qty 20
miniFlow Nasal Prongs, disposable, single use, qty 10
58401 Micro
58402 Small
58403 Medium
58404 Large
58405 X-Large
58406 Large Wide
58407 Medium Wide
miniFlow Nasal Mask, disposable, single use, qty 10
58408 Small
58409 Medium
58410 Large
58411 X-Large
miniFlow Bonnet, disposable, single use, qty 10
58412 X-Small
58413 Small
58414 Medium
58415 Large
58416 X-Large
58417 XX-Large
58418 XXX-Large
21005 Mobile Stand, MRI compatible. Includes ventilator mounting plate and four (4) E cylinder holders for oxygen & medical air.
21018 Secure Pole / Rail Mount with ventilator mounting plate. *Meets European EN 1789 requirements.
21031 Remote Alarm
21002 Rigid Wall Test Lung, Infant dual lung, 50ml
21051 Oxygen Regulator, MRI compatible, high pressure D / E cylinders
21052 Medical Air Regulator, MRI compatible, high pressure D / E cylinders
21054 Manifold, 3 way, standard DISS oxygen connections, 1 oxygen and 1 medical air manifold
21050 Manifold, 3 way, On/Off toggles, 1 oxygen and 1 medical air manifold
21071 Oxygen Cylinder, E size, MRI compatible
21072 Medical Air Cylinder, E size, MRI compatible
97041 pNeuton mini Operator's Manual, English
97043 Spanish
97044 French
97045 German
Other languages available.
97024 User Resource CD
Reviews
The pNeuton ventilators/CPAP systems are critical care devices designed for use by healthcare professionals under the direction of a physician or healthcare provider.