Duoscope Laryngoscope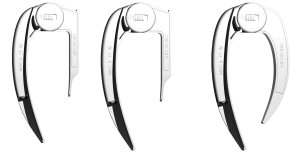 Duoscope is Truly Unique
Its functional design facilitates immediate accessibility and instantaneous responses in emergency situations. When opened the user has 2 different intubation blades to use. One blade functions as the handle while the other blade is inserted for cord visualization. The Duoscope comes in three different configurations, providing a combination of 4 different blade sizes.
Duoscope Performance
The Duoscope laryngoscope uses a Super Bright Pure White Water Clear LED that will operate for up to 24 hours. The laryngoscope meets the ISO standard for blade structural integrity: tested with an applied load of 40 kg force, there was no breakage for the full range of the blade.
Benefits for the Patient
Minimizes risk of cross-contamination during intubation
Gentle touch on the patient's teeth due to ABS construction
No Assembly – Quick Action
Light lasts for 24 hours, plenty of time to do it right
Benefits for the Healthcare Provider
High-quality ABS plastic molding provides the strength and rigidity needed for intubation
Macintosh profile for adults
Miller profile for pediatrics
Powerful Super Bright Pure White Water Clear LED for easy viewing
Benefits for your Budget
Eliminates cost and time associated with reprocessing blades
Light-weight, "Two in One" blade without the need to carry multiple handles, blades or batteries
Shelf life over 5 years for long storage
Coin cell batteries for easy disposal
P/N RB2000 (Miller 1 +Macintosh 3)
P/N RB3000 (Miller 1 + Macintosh 4)
P/N RB4000 (Macintosh 3 + Macintosh 4)
Description
Type – Disposable
Material – ABS X-17 Plastic
Dual Illumination Lamps, over 24 hrs. continuous illumination
Light – LED, Super Bright Pure White Water Clear
Aperture Opening – 90 degrees
Battery – 3.0V Lithium-Manganese Coin Cell (2), easily removed for disposal/recycle
Storage Conditions -22 degrees F to 140 degrees F (-30 degree C to -60 degree C)
Each blade and handle packaged nonsterile in a sealed pouch ready for ETO sterilization
Meets International Standards for Laryngoscopes:

ISO: 7376: 2009: Anesthesia and respiratory equipment – Laryngoscopes for tracheal intubation
Blade Configuration / Size (Closed)
Miller Size #1 + Macintosh #3 | 139mm H x 79mm W x 27mm D
Miller Size #1 + Macintosh #4 | 169mm H x 79mm W x 28mm D
Macintosh Size #3 + Macintosh Size #4 | 169mm H x 87mm W x 28mm D
User-Resources
Duoscope Produce Brochure: English
Clinical Articles
Duoscope JEMS Product Review: English
Reviews
The pNeuton ventilators/CPAP systems are critical care devices designed for use by healthcare professionals under the direction of a physician or healthcare provider.