Airon Corporation announced today that it has selected SenTec Inc., USA, as a distributor for its pNeuton line of pneumatic transport ventilators and its MACS CPAP in select regions of the United States, including Midwest, major portions of New England and Mid-Atlantic, as well as Georgia and Florida. The agreement includes distribution of four products: pNeuton Model A and pNeuton Mini in hospitals, and the pNeuton Model S and MACS CPAP for Emergency Management Systems (EMS).
"Distributing Airon products through SenTec, Inc. represents an important step in our core objective to provide quality customer support for our pneumatic transport ventilators and CPAP systems" said Eric Gjerde, President & CEO, Airon. "SenTec has knowledgeable sales associates who will provide clinicians with the training and support they need for safe and effective patient care using Airon products. The synergy of SenTec's superior non-invasive blood gas technology with Airon's life support products is a powerful combination that will improve patient care throughout SenTec's sales territory."
Airon's pNeuton transport ventilators are used in hospitals, air transport and EMS. These pneumatic ventilators and CPAP devices are ideal for disaster preparedness and patient transport of critically ill patients. These devices can care for patients from the smallest neonate to the largest adult.
Airon portable ventilators are MRI compatible with a conditional rating for 3T MRI scanners. There is no Gauss line restriction to how close Airon ventilators can be placed to the MRI.
SenTec, Inc will be distributing the following Airon pNeuton products:
pNeuton Model A adult pediatric ventilator, for patients 23 kilogram and larger for use in the hospital and acute care facilities
pNeuton Mini neonatal pediatric ventilator, for infants from 400 gram to 25 kilogram
pNeuton Model S pediatric / adult ventilator, for use in EMS and ambulances including air ambulance
MACS CPAP System provides critical care Mask CPAP for adult patients in ambulances and Emergency Departments (ER)
"There are many synergies between our two companies, both in our sales channels, and also in the patient conditions our products are used" said Chris Estes, President of SenTec Inc. "SenTec transcutaneous tcCO2 monitoring is routinely used on patients during mechanical ventilation, and so this partnership is a very natural fit. Airon has an impeccable reputation for quality and service, and we are excited to join with them to bring these outstanding solutions to clinicians for the common goal of influencing positive patient care and outcomes."
About SenTec Inc., USA
SenTec Inc., USA represents and services the SenTec product line via their direct sales force in one-third of the USA and via their dedicated national independent distribution network. In their direct sales territory, SenTec Inc. also represents several respiratory specialty products including high-frequency percussive ventilators, infant transporters, CPAP and bilevel products, and more.
SenTec Inc., a subsidiary SenTec AG, is the hub of SenTec for North America. SenTec AG is a medical device company headquartered in Switzerland, which develops, manufactures and markets technologies and products for noninvasive patient monitoring. SenTec AG gained attention and worldwide appreciation due to its digital, combined transcutaneous sensors enabling noninvasive and continuous ventilation and oxygenation monitoring.
About Airon Corporation
Airon Corporation is a team of healthcare, manufacturing and marketing professionals, and respiratory therapists, who are focused on high-technology pneumatic life support products for emergency medicine and critical care.
Established in 1997, Airon Corporation is a privately held company focused on maximizing their patented oxygen-powered gas control technology. The inherent safety and long-term reliability of this technology make Airon's ventilators and CPAP systems unique in today's world of electronics. All of Airon's products are proudly made in Melbourne, Florida, USA and are in use in hospitals and EMS agencies throughout the world.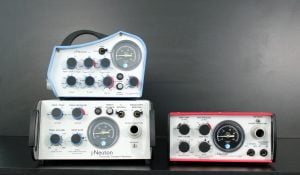 Airon's pneumatic transport ventilators: (top) pNeuton Mini; (bottom, from left)
pNeuton Model A and pNeuton Model S.